Note: The following information describes a product that is no longer in production.

The Singular Solutions A/D64x extends the NeXT computer's exceptional signal processing and sound reproduction capabilities to provide a high quality, flexible, cost effective platform for audio or data recording and analysis. It is ideal for music production or editing, general sound recording, laboratory data collection, or any situation requiring high-fidelity signal capture and manipulation.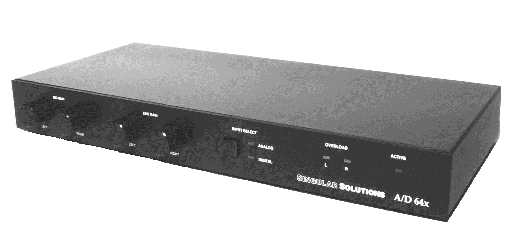 The Singular Solutions A/D64x consists of hardware and software for professional direct-to-disk sound recording and data capture on NeXT computers. The system features two channels of 16-bit delta-sigma (ultralinear) analog-to-digital conversion with 64 times oversampling and a three stage linear phase digital anti-alias filter. It is equipped with balanced as well as unbalanced inputs and an integral low noise microphone preamp with 48 volt phantom power. It also provides digital audio (AES/EBU and S/PDIF) input and output.
The A/D64x supports sampling at 16, 22.05, 32, 44.1, and 48 KHz (plus external) sampling rates. It can also operate in a standalone (Analog-In to Digital-Out) mode. Multi-A/D64x synchronization is available as well as a rack mount option. Software is included for direct-to-disk recording and multi-document nondestructive editing. The A/D64x has been shipping worldwide since 1990.
Studio quality construction is utilized throughout:
Four separate circuit ground planes
Six isolated power supplies
Baked finish steel case
Allen-Bradley conductive plastic (lifetime low noise) pots
Transformer-coupled AES/EBU digital audio I/O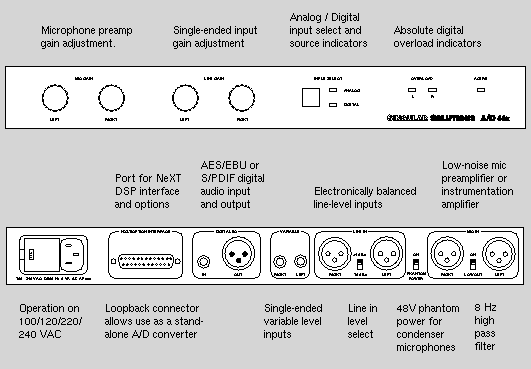 The A/D64x Recorder application features:
Two channel direct-to-disk recording
Real-time calibrated peak holding meters
Selectable sampling rate: 16, 22.05, 24, 32, 44.1, 48 KHz
Multiple sound documents with waveform display, variable magnification
Non-destructive cut and paste sound editing
Playback through NeXT DACs or A/D64x digital audio output
Selectable A/D64x AES/EBU or S/PDIF output format
Uses standard NeXT soundfile format
In addition to the supplied software, the A/D64x is also supported by Digital Recordings' DFG (Digital Function Generator),and Paul Lansky's (Princeton University) RTMix. A large number of public domain and university developed programs that utilize the standard NeXT soundfile format are also compatible with the A/D64x. A Developer's Kit is included at no additional charge.
The A/D64x is priced at US$1295. A rack mount option is available for an additional US$70. Please contact Singular Solutions for university or dealer pricing.

Singular Solutions, Inc.
448 S. Santa Anita Ave.
Pasadena, CA 91107
Tel: 626.792.9567
Fax: 626.792.0903
Email: info_ad64x@singular.com

All specifications are subject to change without notice.